"Natural" is a word that gets thrown around a lot in the skin care world. Many times, products will say they're natural, when they only have one or two natural skin care ingredients, and said ingredients are far down the list of what's in the product. With the ever-growing natural skin care market, you always want to look at the first 5 ingredients in order to tell whether or not it actually is what it claims to be, as those are what make up the majority of the formula.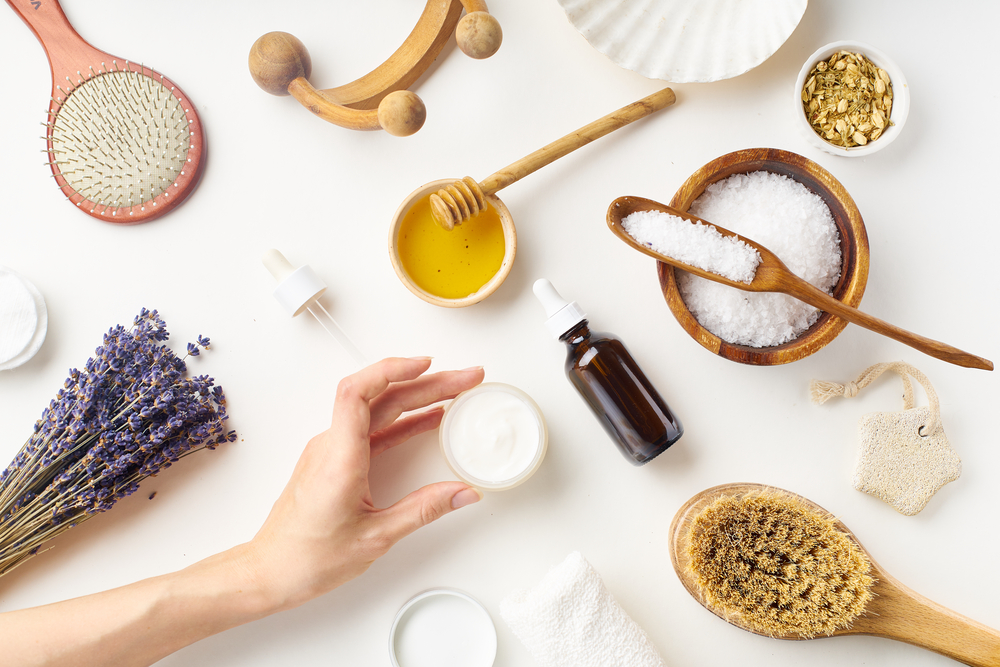 Here are some natural skin care ingredients to keep an eye out for. With new things constantly being introduced in the skincare industry, these natural skin care ingredients have proven the test of time. It's important to keep your skin type in mind when looking into skin care, as everyone is different. What works wonders for someone with oily skin could wreak havoc on someone else's dry skin.
That's why we've divided these natural skin care ingredients into what's best suited for each skin type, so that you're able to find what works best for you, personally.
Average Skin
Average skin is that perfect balance between not too dry and not too oily. It's different from combination skin in that it can have slight dryness and a shiny T-zone, but isn't dry in some areas while being oily in others, like combination skin is. Chances are, if you don't worry much about oil, dryness, redness, or sensitivity, you have average skin.
Since your skin already has a good natural balance, you don't want to mess with it too much. Organic rosewater is an excellent choice for cleansing your skin, as is coconut oil for moisturizing it. Rosewater is a natural skin care ingredient known for its anti-inflammatory properties, powerful antioxidants, and anti-aging effects.
Some other great natural skin care ingredients for average skin are:
Zinc oxide
Jojoba oil
Aloe vera
Squalane
Dry Skin
If your skin often feels tight, gets easily irritated, and gets flakey, you've likely got dry skin. Dry skin makes people more likely to have a dull and rough complexion, less skin elasticity, and more easily get wrinkled. Sensitive skin can be a subset of dry skin.
If you have dry skin, you want a good moisturizer that isn't going to be too harsh for it. Argan oil, shea butter, and olive oil are all natural skin care ingredients to keep an eye out for. These are great for hydration, especially shea butter.
Some other great natural skin care ingredients for dry skin are:
Aloe vera
Sea buckthorn
Squalane
Glycerin
Honey
Alpha hydroxy acid
Oily Skin
Our skin naturally produces oils in order to keep our skin hydrated and healthy, but sometimes, it does this in excess. If your body produces too much oil, you'll have oily skin, and may notice that you have larger pores, a shiny complexion, and more frequently get breakouts.
Many people who have oily skin assume that they shouldn't moisturize, however, this couldn't be farther from the truth. Moisturizers tell your skin that it's producing enough oil, which can help. Look for natural skin care ingredients, such as grapeseed, rose hip, and jojoba. Other ingredients such as alpha hydroxy acids help to control your oil production, as well.
Some other good natural skin care ingredients for oily skin include:
Benzoyl peroxide
Hyaluronic acid
Beta hydroxy acid
Dead sea mud
Activated charcoal
Apple cider vinegar
Witch hazel
Tea tree oil
Combination Skin
If your skin has patches that are dry and other patches that are oily, you likely have combination skin. The existence of combination skin is a matter of some debate, as some people say that it's normal to have patches, while others say that the extent of the patches makes all the difference. Regardless, you want to look for skin care that won't dry your skin out and that won't clog up your pores.
Hyaluronic acid is a fantastic natural skin care ingredient for those with combination skin, as it provides hydration without being too heavy, and works for people who have oily skin as well as those with dry skin.
Some natural ingredients to look for in skin care for your combination skin are:
Willow bark
Glycerin
Rice water
Aloe vera
Jojoba oil
Zinc
Cucumber
Acne-Prone Skin
If you're prone to breakouts and acne, regardless of whether you have dry or oily skin, there are natural skin care ingredients that can help. Witch hazel is commonly used to dry out breakouts, while it's generally recommended to steer clear of coconut oil if you have acne, as it can make them worse.
Some other skin care ingredients that help with acne are:
Tea tree oil
Green tea
Salicylic acid
Jojoba oil
Echinacea
Sage extract
Rosemary extract
Sensitive Skin
If your skin gets red and irritated easily and it feels like one wrong move can make you break out, you probably have sensitive skin. Eczema is another common indicator of sensitive skin. It can be hard to find skincare products that work if you have this skin type.
Colloidal oatmeal is a great natural moisturizer for those with sensitive skin. It's known to be soothing and moisturizing without causing irritation or allergic reactions.
Other natural skin care ingredients to watch out for if you have sensitive skin are:
Aloe vera
Chamomile
Shea butter
Squalane
Olive oil
Seaweed
Argan oil
Aging Skin
As we get older, our skin loses its elasticity, making us more prone to wrinkles and fine lines. While some of us would prefer to embrace these markers of age, others of us would like to slow it down or downplay it.
Retinol is an excellent choice for anti-aging, as it naturally improves your skin and reduces the appearance of wrinkles and fine lines, and can prevent them, if you start using it early enough.
Other good natural skin care ingredients for aging skin are:
Sea buckthorn oil
Vitamin E
Coffee oil
Pomegranate
Hyaluronic acid
Lactic acid
Green tea
These are but a few of the natural skin care ingredients out there. If you would like advice on finding the best skin care products for your skin type, The Skin Institute can help. Contact us today for any questions or to set up an appointment!