During pregnancy, there are certain chemicals, bacteria, foods, and other things that women should avoid. Many chemicals or uncooked foods can cause birth defects or harm the baby while it is developing in the womb. Pregnant women often want to apply lotions or creams to their bellies, face, and other skin on their body for many reasons. Preventing stretch marks, limiting itching, and dealing with pregnancy acne are all possible while using safe skincare while pregnant. Below are products to avoid and how our estheticians can help.
Safe Ingredients:
Azelaic Acid
The tyrosinase inhibitor known as azelaic acid will help treat hyperpigmentation and create a more even skin tone. Using this helps to unclog pores, treat acne, and treat acne scars and brown spots. This product is great for those with sensitive skin, acne-prone skin, and pregnant women.
Glycolic Acid
Glycolic Acid is made from sugar cane and is a water-soluble alpha hydroxy acid. This is a plant-based skincare product that helps speed up cell turnover, produce more collagen, plump the skin, and help with the look of your complexion. Glycolic acid is also helpful for acne of all types and can help with blackheads and inflamed acne specifically. Because it is plant-based, Glycolic Acid is a great option for skincare while pregnant.
Topical Benzoyl Peroxide
For those experiencing pregnancy acne, benzoyl peroxide is a safe product for pregnant women to use. Benzoyl peroxide is also used to treat rosacea, which can cause bumps on the body or face. Make sure to consult your doctor if you have questions and avoid applying the product on open skin.
Topical Salicylic Acid
Another method that can help prevent acne is salicylic acid. It can also help treat other skin conditions such as psoriasis, other overgrowths of skin cells, corns, calluses, and warts on hands and feet. It reduces swelling and redness and allows pimples to shrink.
Aloe Vera
The soothing properties of aloe vera can be used for many different skin conditions. This is another product to add to your routine of skincare while pregnant because it is made directly from the aloe vera plant. Aloe contains antioxidants, vitamins, minerals, and sugars that are all healthy for your skin. There is not enough research to show whether aloe vera juice is safe for pregnant women, so applying it only topically is a good rule of thumb.
Shea Butter
This is a common product used in skincare while pregnant for its ability to soften and smooth skin. It can also help with skin swelling which can help reduce the appearance of stretch marks and help strengthen any damaged skin. Shea butter is also a common product used to treat itchy skin during pregnancy and help protect the elasticity of the skin during and after pregnancy.
Antioxidants
Eating antioxidants is important while pregnant for your health and the health of the baby. Applying products with antioxidants can help improve skin texture and give those benefits to your skin as well. Using antioxidants in your skincare while pregnant will repair damaged skin and reduce signs of premature aging.
Products To Avoid:
Phthalates
Using products with phthalates affects your body's hormones and can be very harmful to fetuses. Research has shown that they can lead to the disruption of thyroid hormones, sex hormones, and more which can lead to issues such as preeclampsia, and improper growth of the genitals in newborns. Growth restrictions, and preterm birth.
Formaldehyde
Although formaldehyde is disappearing from cosmetic products more and more, it can increase the risk of cancers and pregnancy loss. There are certain cosmetics that have formaldehyde releasers that can still decompose in your products and cause these issues. These releasers include:
5-bromo-5-nitro-1,3-dioxane
Diazolidinyl urea
Hydroxymethylglycinate
Imidazolidinyl urea
Hydroquinone
Hydroquinone lightens the skin or reduces skin pigmentation from melasma and chloasma. There is no proven link, but because the body can absorb high levels of it compared to other ingredients, it is best to avoid it during your pregnancy.
Retinoids
Birth irregularities have been linked to high levels of retinoids that can come from some anti-aging products. Prescription retinoids have been linked to a 20% to 35% risk of severe congenital irregularities. Isotretinoin is a popular chemical used to treat acne (Accutane, tretinoin, or Retin-A) which can be extremely harmful to fetuses. If you are on these medications, make sure you stop use at least 2 months before getting pregnant and be regularly monitored by doctors for pregnancy.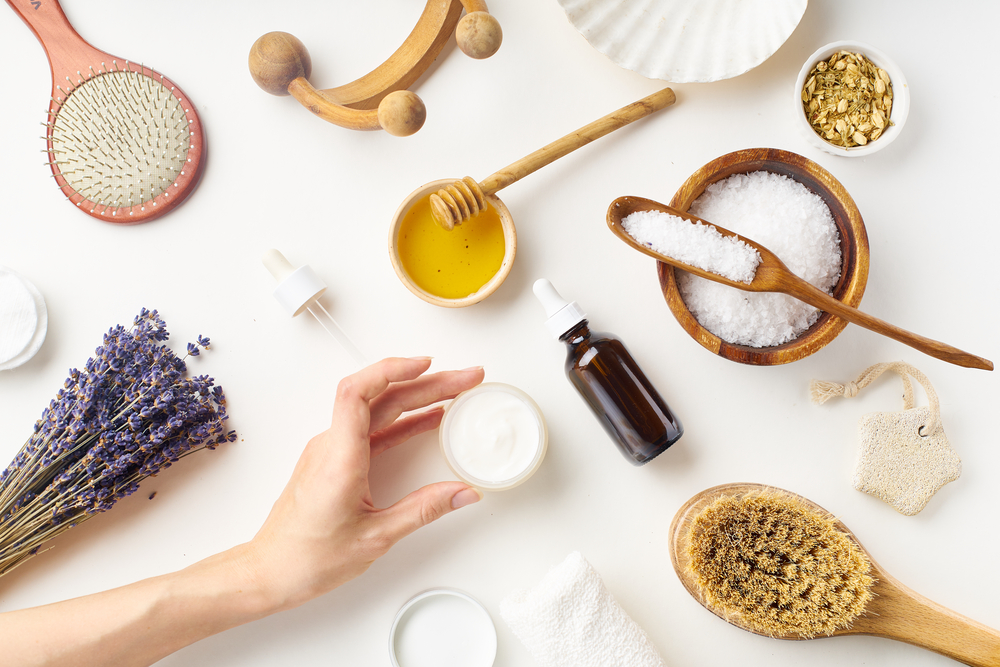 Tips From Our Estheticians For Skincare While Pregnant
For pregnant mothers wanting to improve their skin during pregnancy, there are safer ways than using harmful chemicals in skincare while pregnant. Adjusting your diet to include more antioxidants, Vitamin C, and zinc, and limiting sugar can help improve your skin.
If you visit an esthetician, ask them about what treatments are safe during pregnancy or how you can improve your skin at home. Our estheticians at The Skin Institute know a lot about different skin types and want to help clients feel confident in their skin. Contact us to schedule a service today!